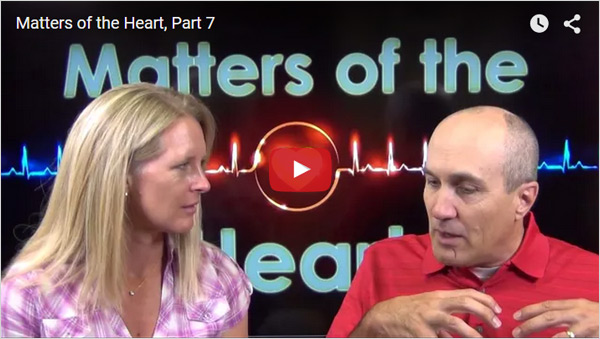 Links Daily Devotional editor Jeff Hopper talks with contributor Tracy Hanson about the fact that God looks at our heart.
A Bible study for today's devotion is available for printout as a pdf file. Click here.
SEPTEMBER 25, 2015
MATTERS OF THE HEART, PART 7
And he came to her and said, "Greetings, O favored one, the Lord is with you!" But she was greatly troubled at the saying, and tried to discern what sort of greeting this might be." (Luke 1:28-29, ESV)
In our accompanying video today, Jeff Hopper introduces our theme with the word quaking. This is not a common word in my vocabulary, but it definitely matches up to how I have felt in many circumstances both on and off the golf course.
I have experienced a quaking heart over hundreds of golf shots. Fortunately, I conquered my internal trembling a high percentage of the time, but my fears led to disaster as well. Highland Meadows in Sylvania, Ohio, is a course I really enjoyed. But every time I stood on the ninth tee looking down the fairway, fear welled up inside me. The busy road out of bounds to my right taunted me, while the narrow creek on the left sifted my thoughts. The fear I felt over this tee shot stole my sense of control and blinded me to seeing the fairway.
Dictionary.com defines quaking as "to shake or tremble from cold, weakness, fear, anger." Overcoming these feelings while on the course requires building consistent physical skills, practicing mental visualization, and slowing our walk and breathing pace. This keeps our focus on the process rather than the trembling and fear that wreaks havoc when what we see looks impossible.
Gaining victory over our quaking hearts in our spiritual lives also requires action. We are to learn new behaviors, fill our mind with God's Word, and slow down to move from defensiveness to curiosity in our questions for God. However, the most important weapon in this battle is the assurance that Jesus lives in us. We have been given a "spirit not of fear but of power and love and self-control" (2 Timothy 1:7). Everything we need to move through our fears is available in Jesus.
Mary's response to the angel Gabriel is a practical approach to difficult circumstances. The text reveals that along with being greatly troubled, she also tried to discern what was happening. Mary acknowledged her struggle and then she considered, reasoned, and reckoned thoroughly through her fear by asking honest questions.
Fear is real. Because of Jesus we have options in how we respond to it. So let us be like Mary­—honest and discerning.
—
Tracy Hanson
September 25, 2015
Copyright 2015 Links Players International
The Links Daily Devotional appears Monday-Friday at Links Players.
Tracy Hanson spent 15 seasons on the LPGA Tour. She continues to enjoy athletic activity, along with travel, reading, and writing. For more information about Tracy, visit her website.
** Special announcement: With great pleasure and excitement, we announce today the addition of Tracy Hanson to our Links Players staff as Director of Ladies Ministry. Tracy will continue to write bi-weekly devotions, as well as helping us create new resources for women's Fellowships and coaching leaders in those Fellowships. As with all our regional staff, Tracy is supported by donations of those who share her vision for ministry. You may donate any time at our web site, indicating in the "Note to Links Players" that you would like your donation to go to the Ladies Ministry.