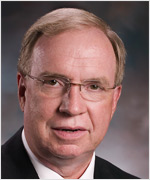 Face to Face is a radio program which focuses on Christian athletes. Professional and college athletes from all walks of life are interviewed, and talk about both their sports experiences and their love for Jesus Christ. All interviews are done in person, and have a warm, friendly feel rather than the hard interrogation of a typical interview. Over 450 athletes have been involved since the show began on one station in the fall of 1992. Face to Face is a thirty-minute show heard weekly on many stations. There is also a two-minute vignette of many athletes heard daily on some stations.
Tom Rust is the host of Face to Face. He has worked in radio since 1984 as a play-by-play host and color commentator on high school sports broadcasts in Columbus, Indiana. He was also involved with Youth for Christ for 27 years. Most recently, he directed the local Youth for Christ chapter in Columbus, leaving that post in 1998.
If you have any comments or questions about Face to Face, we'd love to hear from you. Here's how you can contact us:
Face To Face, Inc.
P.O. Box 125
Columbus , IN 47202-0125
Phone: (812) 372-0096 or (812) 390-7949
Email us here
If you'd like to join our mailing list to receive the Face to Face newsletter, please click here.
Our Board of Directors
Philip Newton, Chairman – Columbus, IN
David Ketchum, Vice Chairman – Columbus, IN
Richard Epps, Treasurer – Chicago, IL
Ken Conrad, Secretary – Auburn , IN
Woody Harrison – Columbus, IN
John Laskowski – Bloomington, IN
Our Board of Reference
Steve Alford – Head Basketball Coach, UCLA
Mitch Barnhart – Athletic Director, University of Kentucky
Ted Barrett – Major League Umpire
Dick Bennett – Former Head Basketball Coach, Washington State University
Tamika Catchings – Indiana Fever, WNBA
Mike Davis – Head Basketball Coach, Texas Southern University
Scott Downing – Asst. Hd. Coach, Spl. Teams Coord., TE Coach, University of Tulsa Football
Stephen Grant – Retired Linebacker, Indianapolis Colts
Archie Griffin – Assistant Athletic Director, Ohio State University
Matt Herges – Former Major League Pitcher
Jerry Jenkins – Novelist
Clark Kellogg – CBS Sports
Scott Linebrink – Retired Major League Pitcher
Danny Wuerffel – Former NFL Quarterback, Director Desire St. Ministries, New Orleans, LA