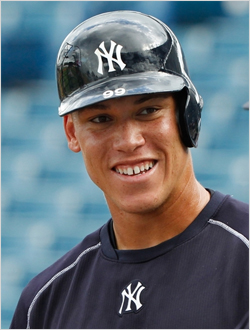 Aaron Judge: The Missing Piece the Media Has Ignored About the Yankees Rookie Sensation
At 6 feet 7 inches and 280 pounds, he may be the biggest player ever to play major league baseball. Aaron Judge is the rookie sensation of the 2017 major league baseball season. The New York Yankee's rightfielder is pretty much a lock to be the American League Rookie of the Year and perhaps the league's Most Valuable Player.
At the All-Star break in midseason, Judge led the league in home runs and RBI's and at .331 had the highest batting average. His 30th home run July 7 broke Joe DiMaggio's record for the most home runs in a season by a Yankees rookie. It took Judge just 82 games to break the record. DiMaggio hit his 29 homers over 138 games in 1936.
It is Judge's off the field demeanor that has players and media buzzing. Living in the town that "never sleeps," he has not been caught up in the endless night life that traps so many young players. He has been described by players and coaches in countless media articles as unselfish and willing to talk to anybody.
In a recent USA Today Sports Weekly article, it was mentioned of Judge that "he peppers his conversations with 'please' and 'thank you', and when approached by reporters, he offers a handshake and even calls them by name." In that same article, his high school coach referred to him as "innocent as a dove."
As I read these articles, I began to wonder about what was not being said about Aaron Judge. He comes from a seemingly stable family in northern California. Research showed that he is biracial and was adopted by two educators one day after he was born. He was drafted in the 31st round by the Oakland A's, but instead allowed his parents to steer him to college at Fresno State.
All this sounded good, but I was looking for that one missing piece. What drove this 25-year old wunderkind from deep inside. I found on his Twitter page what I was looking for and what the secular media often misses or ignores. Aaron Judge is a born-again believer.
As we have discovered during this past year, the true thoughts of a person are revealed on social media. Judge lists at the top of his page, "Christian, faith, family, then baseball." An Easter tweet said, "Happy Easter everyone, He is risen." Digging deeper, I even found his life verse, "For we live by faith, not by sight."(II Corinthians 5:17)
For over two decades, I have interviewed enough athletes to know when they have a true faith. It is a shame that the media can see what a true man of God looks like, but not admit it to their readers.
A few years ago, I interviewed Daniel Murphy, now the second baseman for the Washington Nationals. He told me, "I don't mention God in my interviews, I talk about Jesus Christ in my life. That's like throwing snakes on a table." I would love to have Judge as a potential guest for Face to Face but he is apparently so popular that only the media with the highest priority are granted access and even then, they are told to keep it short. The same rule is being applied to the top pitcher in baseball, Clayton Kershaw of the Los Angeles Dodgers, another solid Christian.
But as the Bible says, "I have made you a light for the Gentiles that you may bring salvation to the ends of the earth" (Acts 13:47). God's light will shine. As the season, progresses, baseball fans everywhere will start to hear about Aaron Judge. It's good to know that he represents many athletes who want to be a light in a dark world. His light will only get brighter as he matures as a man and in his sport. As Aaron said in a tweet from August 2016, "Make a difference, Lord willing."